Leadership business behaviour
What are the qualities of a good leader?
Whether running your own business or leading teams in an office setting, the best leaders require a strong set of leadership qualities to help positively interact with their employees, team members, and clients. Behavioural theories suggest that leadership skills aren't ingrained and can be taught – people can obtain leadership qualities through teaching and learning these skills over time.
"Management is about persuading people to do things they do not want to do, while leadership is about inspiring people to do things they never thought they could."
— Steve Jobs
While some leaders seem like they were naturally born that way, leadership skills can be learned. It doesn't matter if you haven't led before. There are certain characteristics, traits, and skills that ultimately build the most effective leaders.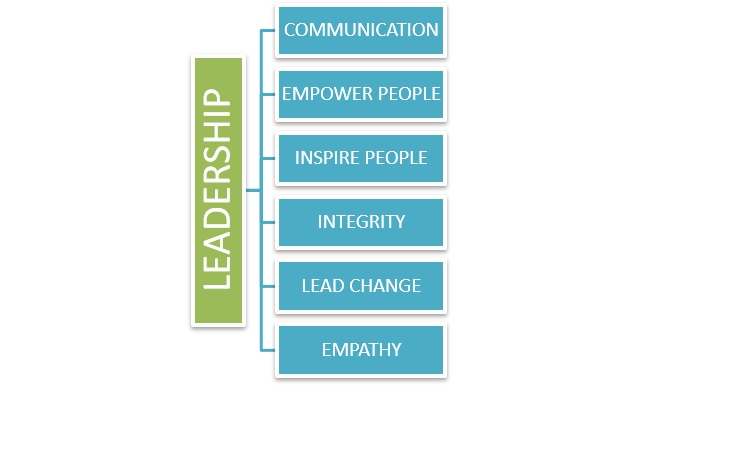 Leadership strategies
How can I improve my leadership skills?
Here are five strategies to help you develop your leadership skills and keep advancing your career.
Communication
To express yourself openly and build empathy with other people is the foundation of effective leadership. Good communication skills, as listed below, are absolutely crucial.
Communicate relentlessly
Simplify and be direct
Listen and encourage input
Illustrate through stories
Affirm with actions
Integrity
"Integrity is doing the right thing, even when no one is watching"
There are many actions demonstrated by people with integrity, including:
Apologising for mistakes
Highlighting the work of their employees and downplaying their own contributions
Giving the benefit of the doubt when circumstances are unclear
Being appreciative of people's time
Empathy
Empathy is understanding.
Empathy isn't just being a nice person. Real leaders are empathetic with their teams and deeply understand their motivations.
It's a mindset that enables leaders to:
Make better predictions
Improve work strategies
Inspire loyalty among their teams
Better their negotiation tactics
Increase creativity
Skills strengthened by empathy include:
Feeling safe
Emotional connections
Identifying needs
Collaboration
Negotiation
Creativity
Inspire People
Here are some actions that leaders can do to increase their influence:
Clearly state what they want
Connect with people emotionally
Make others feel important
Be vulnerable and charismatic
Work toward commonly shared goals
Ask for suggestions and input
Build real, lasting relationships
Act professionally on social media sites such as Facebook and LinkedIn
Have self-awareness
Delegate (Empower People)
Many new leaders are accustomed to doing all the work themselves and struggle to let others handle responsibilities on their own. Great leaders must empower their team – they must delegate more and be less involved.
One of the most important qualities of a good leader is delegating tasks and empowering their team. Through this delegation and empowerment teams shine, as they are able to contribute in the most meaningful way.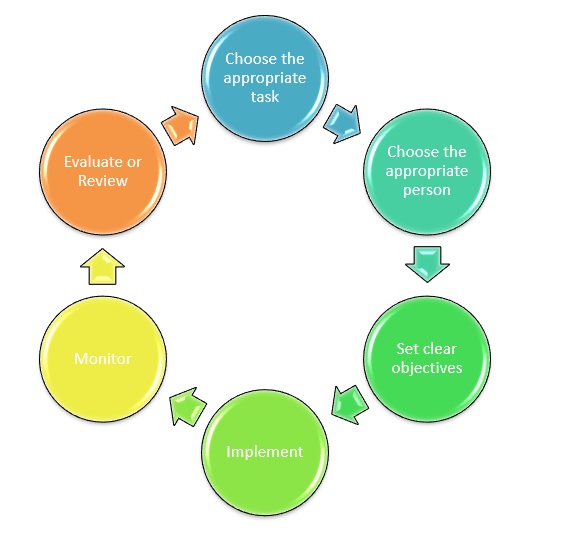 The delegation process
What are the Leadership styles?
There are many different leadership styles that people tend to use and it is advisable to adapt your leadership style depending on the situation and the individual or team.
| | | | |
| --- | --- | --- | --- |
| STYLE | CONCEPT | PROS | CONS |
| Laissez-Faire Leadership | Laissez-faire is French, and it means "hands-off | Your employees feel appreciated and confident that they can make good decisions | Employees may take your hands off approach too far and begin slack off or take advantage of your approach |
| Pace-Setter Leadership | One that sets the bar high and expects work to be done fast and right | For highly energised professionals who know what they are doing and are driven to succeed | Some employees, no matter how driven, can become over-stressed and burned out |
| Autocratic Leadership | One person in control of everything | Best-applied to circumstances where there is little or no time for group decision-making or where the leader is the most informed or knowledgeable member of the group | Not always be the best because your employees will feel devalued and look for work somewhere else |
| Democratic Leadership | This leader will listen to others' opinions but will make the final decision. | The leader still is very involved in day to day activities but will allow for more creative thinking to flourish | When a decision has to be made right away |
| Servant Leadership | The leader highlights the individual or the team as opposed to him or herself | The best styles for non-profit or other humanitarian business because the people are as important as the mission | Does not work well in hierarchical or autocratic cultures where managers or leaders are expected to make decisions |
| Transformational Leadership | This leader is self-aware, authentic, empathetic and humble | When people feel they are sharing in something great, they will make every effort to be the best and do the best work | Is not a one-size fits all and the leadership style must be adapted to the situation |
| Transactional Leadership | Is a reward/punishment model | May inspire some to do better because something they want is on the line | May also lower morale because of the punishments |
| Charismatic Leadership | Comes with a personality that people just love | May increase team morale and success | The feeling of invincibility may damage a team or organisation |
Time to Reflect:
Consider the following questions
Q. What kind of leader do you want to be?
Q. What is your current style of leadership? Which aspects of your leadership style do you need to change?
Q. Do you make sure everyone follows the rules, or are you easy-going and put a lot of trust in your employees?
Q. Are you getting negative feedback about your leadership style either from your boss or your team?
Which of These Leadership Styles Is Right for You? (Decision Tree):