Barriers and Contingencies
Progress is dependent upon clients following through on action plans and turning up at their coaching sessions. There may be any number of reasons why a client has not completed their action plan or postponed their next coaching session, but coaches need to adopt a proactive strategy to minimise it.
The first step requires establishing why the client has not completed their action or why they have postponed the meeting. This is an occasion for a direct series of questions.
Never ignore the problem as it confers a level of acceptability on the behaviour. Remind the client of the terms of the coaching relationship as set out in the coaching agreement.
For most coaches time is money and they cannot afford for sessions to be postponed or for unproductive coaching sessions to take place.
Lack of Commitment
One of the common problems facing coaches is clients not following through on their action plans. This may be due to many factors, but usually it is because the client is not sufficiently committed to the plan.
This is an issue which requires revisiting the 'why' question (i.e. why do you want to make the changes; what is your motivation?). Coaches need to take every opportunity to help their client to connect with their motivation and purpose.
Try asking:
Question 1: "Tell me, again, why this goal is so important to you? What will it mean to you when you succeed?"
Question 2: "What will happen if you do not succeed with achieving your goal? What problems will persist as a result of not changing the situation"
If the client does not have a sufficiently strong purpose or answer to the 'why' question, it is advisable to re-visit the goal setting process.
Conflicting Priorities
Often clients mean what they say during the coaching session, but events impact upon their ability to follow through. If this occurs the following Insurance Model can help to mitigate some of the risk.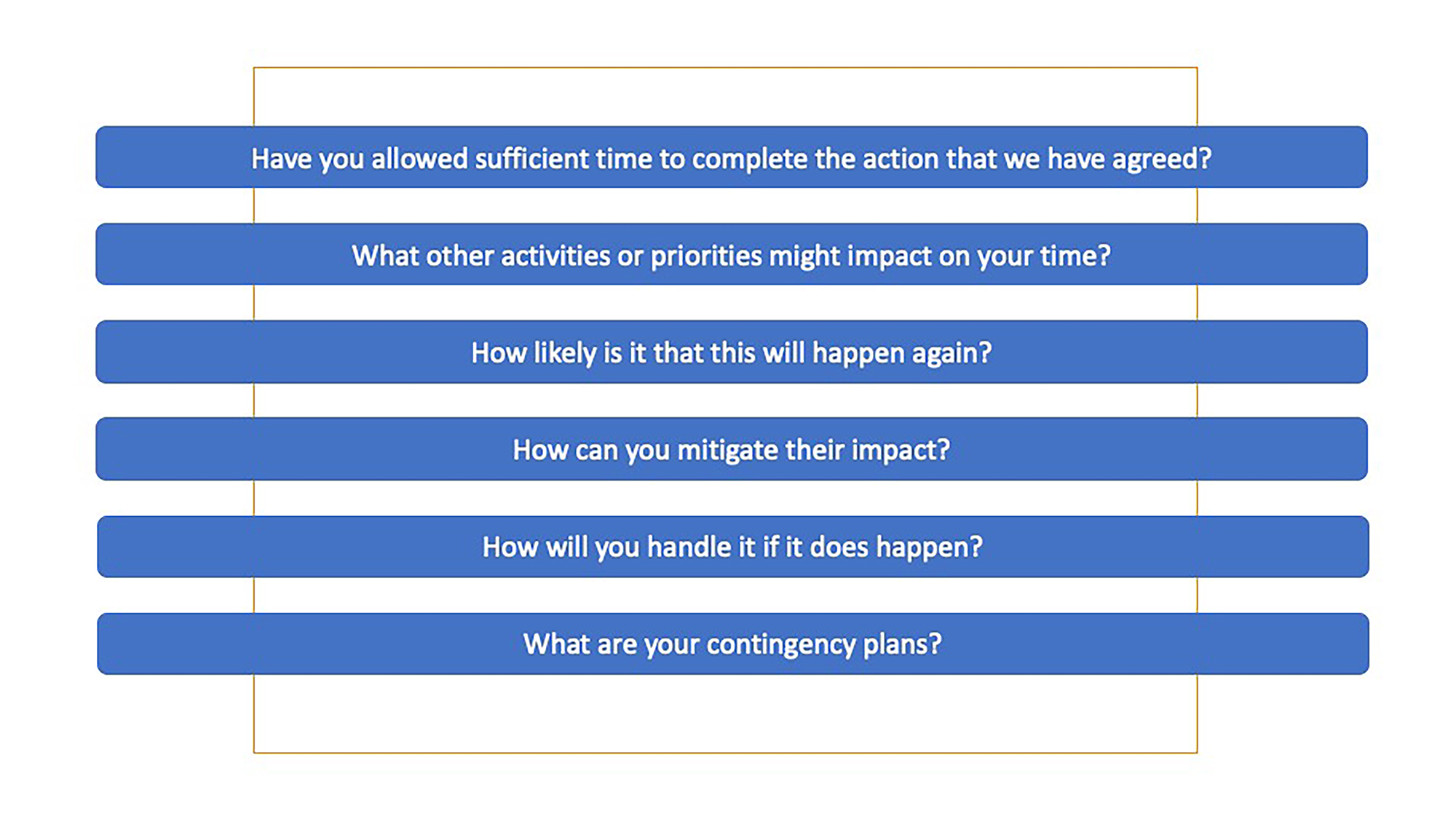 The Insurance Model
The TRAKSS Model incorporates an element of risk assessment by confirming the appropriate level of time, resources, knowledge, skill, aptitude and therefore can help to insure action.
The Pre Coaching Report
Some coaches require clients to submit a brief report to them 24 or 48 hours prior to the coaching session. There are several benefits of this including:
The client will ensure they implement actions as per the action plan before the coaching session
The client will be better prepared having reflected on their own progress
The client will have identified issues and areas for discussion for the next coaching session
Time can be used more effectively during the next coaching session
If the report is not received, the coach can decide if it is sensible to meet. Depending upon the coaching agreement or terms of business a fee may still be payable in order that the coach is not financially disadvantaged.
Money does not grow on trees. Coaching is a professional business and coaches should not be subsidising clients who do not honour their commitments. Whether to charge or not is a decision that each coach needs to make for themselves when developing their coaching agreement and terms of business.
Click on the lesson title under the "Next" button below to access the following lesson.