Clients and their Vision
"If clients have a sufficiently powerful 'why', they will find the answers to the 'how' question. However, without a strong answer to the 'why' question, clients will often lack the commitment to follow through especially when they encounter a little difficulty or challenge." – John Moore
The Importance of a Vision
A vision can serve two purposes: inspiration and prediction. It can be used as a source of inspiration and it used to explore and shape the future: future achievements, performance and behaviours. A strong vision can help to motivate counter forces of resistance: failure, difficulties, problems, criticism, lack of resource and, setbacks.
When others share the vision and it is communicated and understood throughout an organisation, it can help to drive the performance and achievements of leaders, employees and stakeholders as they all work towards the same goals. Visions work on an individual and organisational level and can successfully convert doubters into supporters and groups of individuals into a harmonious and well-organised team.
All things are created twice
Stephen Covey argued that people create things twice: first they must create a vision in the mind and secondly they must transform the vision into reality. Every invention, product and business begins as an idea which requires action in order to convert it into reality.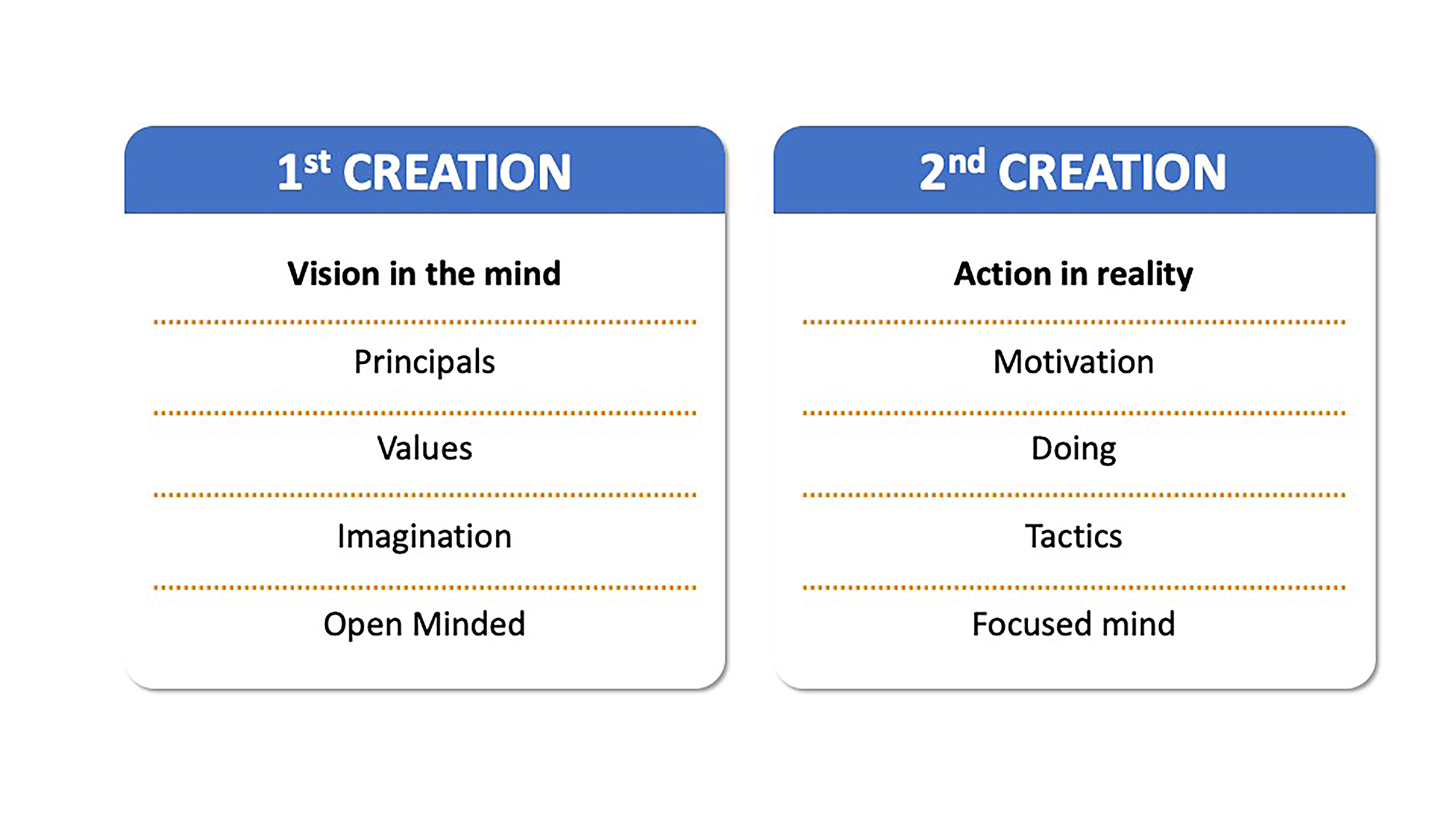 Two stages of creation
Coaching too involves this two-stage creation process.
Firstly, coaches help clients to develop their vision and ideas tapping into their imagination, values and principles.
Secondly, coaches help clients to decide upon the action
They will take to convert the vision into reality.
The first stage of creation involves visioning the future and is very much concerned with asking the questions 'what' and 'why' it is important. The second stage is more focused upon the 'how'.  Effective coaches understand that it is imperative that clients develop a powerful vision, the 'why' before addressing the 'how'.
Large and Small Visions
A vision is simply a picture, a description or a statement of a future outcome, scenario or achievement. Visions can be large such as developing a cure for cancer or HIV; building a multinational business; or inventing a revolutionary product. They can also be small such as completing a task by Thursday next week; resolving a performance problem with a team member; or implementing a credit control system to collect outstanding debts.
The clearer, more specific and more detailed the vision and the stronger the 'why', the more powerful it will be. Coaches help clients to develop visions and to explore the different strategies that can be implemented to turn these visions into reality.
Examples of vision coaching questions:
What does success looks like, feel like, sound like?
What will success mean to you?
What would you need to do to make it happen?
Who would you need to involve to make it happen?
What behaviours or actions would you need to adopt to make the vision become a reality?
Click on the lesson title under the "Next" button below to access the following lesson.