Knowledge Transfer Considerations
Effective action is usually based upon individuals having accurate information that they understand because of their knowledge, skills and experience which enables them to make well informed, insightful choices. In coaching per se and High Growth Enterprise Coaching specifically, there are occasions when clients do not possess the requisite knowledge or experience: they have few or no reference points on which to base a decision.
Since High Growth Enterprise Coaches are in the business of helping clients to make effective decisions, coaches are often required to consider how best the client can gain access to the requisite knowledge, skills and experience in order to make an effective decision.
There are several options available to clients and coaches including:
The client undertaking a programme of training or education
The engagement of a consultant to develop and implement a solution on behalf of the client
The use of a mentor who is able to share their experience of similar scenarios and the action they considered
Consultation with an advisor to explain the options and to advise on the best way(s) forward
Use of a facilitator to help explore the issues and to help the client to develop potential solutions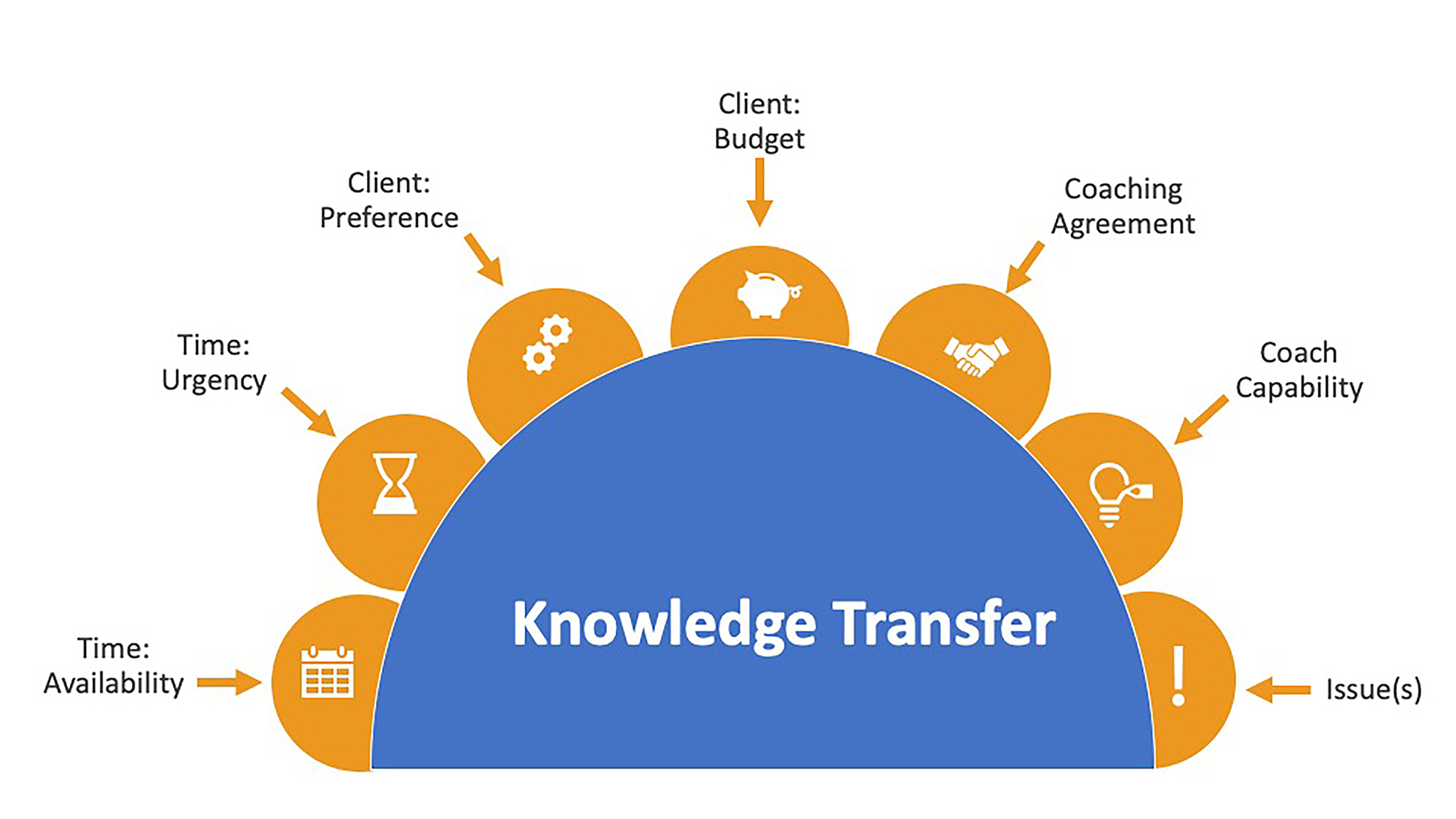 Factors affecting choice of knowledge transfer methodology
The final choice is dependent upon several factors:
Clients might not have the time to develop the knowledge and skills or a decision needs to be made sooner rather than later
The client might prefer to outsource the solution to a consultant with the necessary knowledge, skills and experience
The client might not have the resources to outsource the work and therefore has to undertake it themselves
The coach might lack the specific knowledge and experience to undertake the work themselves and therefore could be asked by the client to broker in the services of a specialist
It might be that the Coaching Agreement precludes the coach from undertaking other work with clients.
Assuming that the coach is able to undertake the additional work, it is vital that the client and coach understand the role being played by the coach and the boundaries of each part of the work that they are due to undertake.
Click on the lesson title under the "Next" button below to access the following lesson.