Learning Styles
One well-known model that explains how people learn is David Kolb's four stage learning model. Kolb has suggested that to make the most of learning, learners need to pass through four different learning stages:
Undergoing an experience
Thinking it through – reflection
Generalising by relating their experience to other situations
Practicing and testing out new skills and ideas in practice
Together, the four stages make up the learning cycle as shown in the following diagram: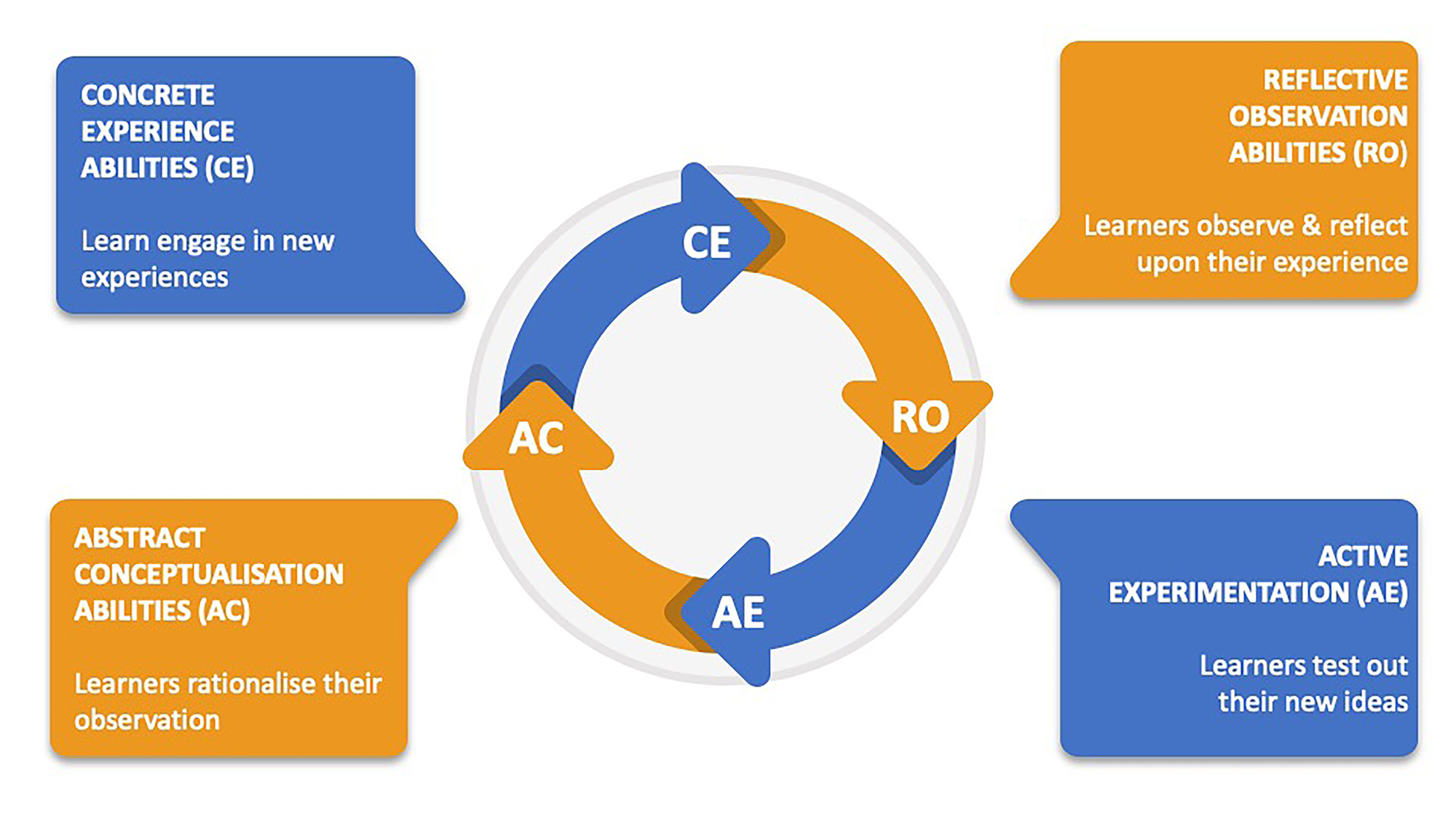 Kolb's Learning Cycle
Each stage of the learning cycle is linked to a particular learning style. The four learning styles are Activist, Reflector, Theorist and Pragmatist.
Each preferred learning style is associated with a specific set of characteristics as defined by Honey and Mumford.
Activists involve themselves fully in new experiences. They tend to place most emphasis on Stage 1: Having an experience. Their philosophy is: 'I'll try anything once'. They tend to act first and consider the consequences afterwards. Their days are filled with activity. They tackle problems by brainstorming. They tend to thrive on the challenge of new experiences but are bored with implementation and long-term consolidation.
Reflectors like to stand back to ponder and observe from many different perspectives. They are more focused on Stage 2: Reviewing the experience. The thorough collection and analysis of data about experiences and events is what counts, so they tend to postpone reaching definitive conclusions for as long as possible. Their philosophy is to be cautious. They are thoughtful people who like to consider all possible angles and implications before making a move. They prefer to take a back seat in meetings and discussions and enjoy observing other people in action. They listen to others and get the drift of the discussion before making their own points. When they act, it is after considering the wider picture.
Pragmatists are keen on trying out ideas, theories and techniques to see if they work in practice. They prefer Stage 4: Planning the next steps. They are the type of people who return from courses brimming with new ideas that they want to try out in practice. They like to get on with things and act quickly and confidently on ideas that attract them. They tend to be impatient and are essentially practical, down-to-earth people who like to make practical decisions and solve problems. They respond to problems and opportunities as a challenge. Their philosophy is, 'There is always a better way', and 'If it works, it is good'.
Theorists adapt and integrate observations into complex but logically sound theories. They are operating at Stage 3: Drawing conclusions from the experience. They think problems through in a step by step, logical way. They tend to be perfectionists who will not rest easy until things are tidy and fit into a rational scheme. They like to analyse and are keen on principles, theories and models. They frequently ask questions such as, 'Does it make sense?', 'How does this fit in with that?', 'What are the basic assumptions?' They feel uncomfortable with subjective judgments, lateral thinking and anything flippant.
Most individuals will have a 'preferred style of learning', which they will tend to rely upon more than others. Therefore, when selecting a knowledge transfer methodology, the preferred learning style of the client is another important factor to take into account.
Click on the lesson title under the "Next" button below to access the following lesson.